From humble beginnings in England as silk weavers in the 1840's, John and Joseph Cash laid the foundations for a company that had a global reputation for the highest standards in quality, innovation and service. Identifying new global opportunities was always a part of the history of Cash's. From its initial expansion to Australia in 1913, to the more recent establishment of operations in the USA, Hong Kong and China, Cash's has long been respected as a worldwide provider of creative identity solutions to brand owners as well as for offering invaluable support to the retail, manufacturing, corporate and government sectors.
Cash's was always at the forefront of technological change as evidenced by their adoption of advanced tagging and tracking systems. State-of-the-art equipment for weaving, embroidery, printing, metal stamping and casting, laser cutting and computer graphics and design, all helped to create an unrivalled product offering. From security labelling and systems that rout thieves and counterfeiters to innovative badging promoting a corporate identity, Cash's were focussed on dedicating resources in research and development and searching the globe to create new opportunities for the market. Cash's track record for delivering innovation was recognised by some of the world's leading companies whose brands form part of a stable of quality clients. Both traditional manufacturers who have relied on Cash's for decades, and new technology-dependent businesses always looked to Cash's for their identification, protection and promotional needs.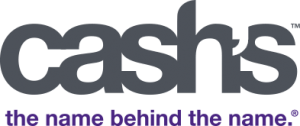 In 2012, Cash's was proudly acquired by the Jointak Group, one of the largest privately owned and fully vertical manufacturers of garment trims and packaging in Asia. This acquisition helps to ensure that the Cash's brand lives on well into the future and provides Cash's customer base the opportunity to work with a larger group. This new business model creates the perfect synergy between Cash's 170+ years of experience in offering world class products and service and Jointak's well distinguished product capability and capacity within a well controlled global network.